Interview on digitization in the canteen kitchen
The magazine "Catering Management" recently published a special edition on "Digitization in the canteen kitchen".
Of course ventopay should not be missing from such a thematic focus, which is why managing director Ing. Johannes Reichenberger was asked for an interview.
The focus of the conversation was on the novel, digital customer loyalty concept, which is seamlessly integrated into the mocca® payment and billing system. The mocca.app acts as a central hub for communication, payment and customer loyalty.
This digital restaurant not only offers a completely new and individual communication channel to the guest, it also increases the operational efficiency through automated processes.
Furthermore, the ventopay CEO gave an insight into future developments. For example, a research project is currently underway that will enable the automated forecasting of food needs.
The full interview showed detailed insights on how the mocca® system with its innovative functions generates enthusiasm among guests and opens up new sales potential.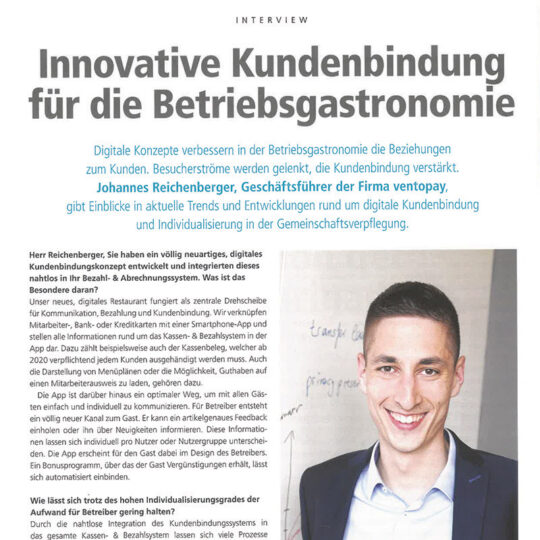 Any questions? We are happy to assist you.
ventopay ist the specialist for cash, payment and billing systems for communal catering. As a full-service provider, we offer a one-stop system that is used by company restaurants, caterers, canteens, universities, schools, stadiums, arenas, recreational facilities, hospitals and vending operators.
Request now without obligation!