Profil, the most important news magazine in Austria, published a portrait of our successful company under the title "Payment without cash". ventopay was also ranked in the top 50 in the list of "growth champions" by profil.at.
The strong, sustainable growth and innovative digital solutions from ventopay impressed the editors.
The article clearly highlights the many benefits of the mocca® cash register and payment system. In addition, the article deals with the forward-looking ideas and projects that ventopay implements in the digital field.
Forecasting models and customer loyalty solutions are just a few of the ways caterers and catering businesses benefit from digitalization.
The entire ventopay team is extremely pleased with the excellent placement and the appreciative report. We are proud to make a valuable contribution to the digitalization of community catering with our innovative projects.
Here you can find the entire Profil article (in German) for your reference.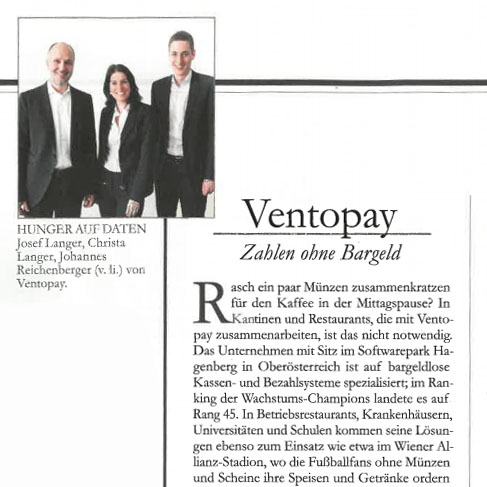 Any questions? We are happy to assist you.
ventopay ist the specialist for cash, payment and billing systems for communal catering. As a full-service provider, we offer a one-stop system that is used by company restaurants, caterers, canteens, universities, schools, stadiums, arenas, recreational facilities, hospitals and vending operators.
Request now without obligation!