Comprehensive information is important to us – as announced in our update to KassenSichV, from 01.01.2020 each cash register must be equipped with a certified TSE (technical safety equipment). The goal is to make it more difficult to manipulate document data in cash registers.
TSE still in the certification process
At present, there is no technical safety equipment available on the market that is final certified by the BSI (Federal Office for Information Security). ventopay has completed the technical integration of these safety equipments as far as possible. Once the certifications are completed, the developments are finalized so that you can meet all legal requirements at an early stage.
The transitional period is not an extension period
Until the certification is finalized, the non-complaint regulation applies, although the following should be noted: The transitional period for the integration of TSEs until September 30th 2020 is not an extension period. For this reason, every cashier must be able to demonstrate credibly that he has already taken concrete measures for upgrading.
We therefore recommend that you obtain a proforma quotation from ventopay for the extension of the cash registers with a TSE. In the event of a check, this gives you a confirmation and the certainty that your cash registers will be upgraded on time and correctly.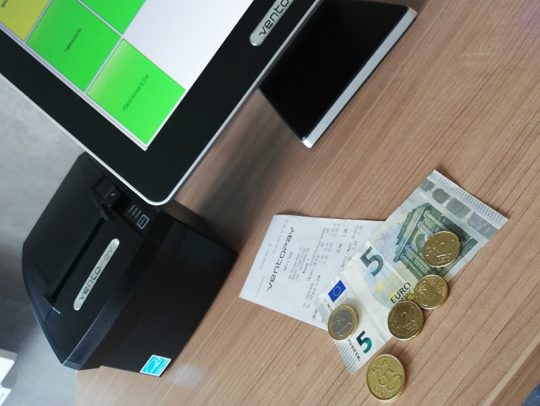 Obligation to receipt issue starts with 01.01.2020
Please also note that the ogligation to receipt issue is exempted from the transitional period. As of 01.01.2020, a receipt must therefore be handed out for each transaction.
Questions?
Do you have any questions about the KassenSichV or the obligation to receipt issue? Our sales team will be happy to help you:
Thank you for your interest in ventopay's mocca® products. Fill out the contact form below, our sales team will get back to you as soon as possible to record your requirements in detail and to submit a non-binding offer.
Inquire now without obligation!