Research and development are very important for us. This is the reason, we regularly come up with product innovations. Today we will introduce you to two of them.
Bonus program
The first novelty from ventopay in the field of public catering is our new bonus program: The new module mocca.loyalty seamlessly fits into the existing mocca® system and has the goals of increasing customer loyalty and sales.
Once activated, mocca.loyalty can be used for Customer Relationship Management. Any turnovers of a customer are added up. When the customer reaches a predefined turnover threshold, he automatically enters a bonus scheme which entitles him to redeem a voucher.
The customer himself can decide when he wants to activate the bonus. With just one click, he can print the coupon at the moneyloader – with the next purchise he gets a discount of the final amount. The barcode on the printed receipt is then scanned at the POS, whereby the price of the consumption is lowered.
This way, it is possible to establish the following bonus levels: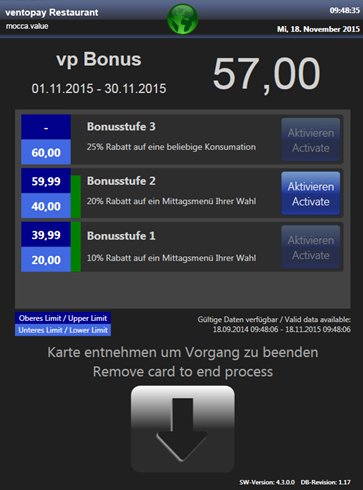 After redeeming the voucher, the accumulated turnover is reset to 0.
Digital receipt for the cash register
The Constitutional Court recently made a decision regarding the cash registers: The cash registers duty is not unconstitutional. Only the sales starting from 01.01.2016 are decisive, which is why the duty will only start on 01.05.2016.
The cash registers obligation is also accompanied by the document granting duty. For each purchase made by the customer, an invoice must be issued. The delivery of the document is also acceptable in electronic form.
Here is our innovation: With mocca® it is not necessary to print out the receipt for the customer at the checkout, what saved (printing) costs and time. This is a significant competitive advantage, especially during high-traffic lunch time.
But how does the customer get the receipt? Due to the real-time integration of all mocca® modules, the receipt is immediately stored in the mocca® system – if needed, the customer can immediately print his receipt at the moneyloader.
Such an all-in-one solution with perfect integration of the individual components through certified interfaces is unique in the market of public catering.
With the mocca® system you get everything from one source, you save time and money and you are prepared for the new cash register obligation.
Thank you for your interest in ventopay's mocca® products. Fill out the contact form below and our sales team will get back to you as soon as possible. We look forward to your inquiry.
Inquire now without obligation!