On June 12, 2020, the Austrian government announced further measures to support special companies in the corona crisis. For this reason, it is planned to reduce the VAT for gastronomy, culture and the media to five percent until December 31, 2020.
Short-term changeover on July 1, 2020 brings challenges
The reduced tax rate should apply from July 1, 2020 and is limited until the end of the year.
The Austrian cash register directive "RKS-V" does not currently provide for an explicit 5% VAT rate. Sales with 5% VAT can therefore be assigned to the 0% rate.
With ventopay you are safe
ventopay has developed all affected products within a very short period of time in order to enable all customers to make a changeover in compliance with the law.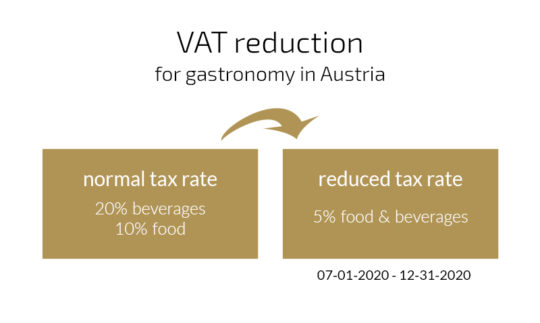 Free implementation as part of software maintenance
The ventopay support team is actively approaching all existing customers and is working flat out to install the required software updates in good time by July 1st, 2020. Before changing the tax rate, please make sure that your system has already been changed.
For all existing customers, ventopay offers this update free of charge as part of software maintenance.
Any questions?
You are welcome to contact our support directly within the usual support hours. You can reach us under the following contact details:
MO-TH: 8 a.m. – 4 p.m.
FRI: 08:00 – 14:00
Telephone: +43 7236 3351 – 4313
Mail: support@ventopay.com
Any questions? We are happy to assist you.
ventopay ist the specialist for cash, payment and billing systems for communal catering. As a full-service provider, we offer a one-stop system that is used by company restaurants, caterers, canteens, universities, schools, stadiums, arenas, recreational facilities, hospitals and vending operators.
Request now without obligation!