The conference "Construction and operation of large kitchens and modern business hospitality 2017" took place in Munich from 16.-17. May 2017. During the two days of the event hosted by Management Forum Starnberg, a number of best practice examples of innovative and future-oriented concepts in community catering were presented.
On the morning of the first day, ventopay CEO Dr. Josef Langer and Johannes Reichenberger presented their lecture entitled "Innovative customer loyalty and digital trends".
Dr. Josef Langer explained how the Megatrends digitalization, health and individualization will change the company's gastronomy and how the ventopay products are already following these trends.
Johannes Reichenberger explained tried-and-tested solutions for exact production, customer loyalty in real-time as well as optimum utilization of the restaurant area. One focus of his lecture was the topic of health in companies and what features cash- and payment systems have to have in the future.
In addition, ventopay was represented with a booth at the conference. During the lecture pauses, promising contacts were made and interested persons were able to find out more about the ventopay system.
Would you like further, detailed information on the content of the presentation? We would be happy to send you the documents.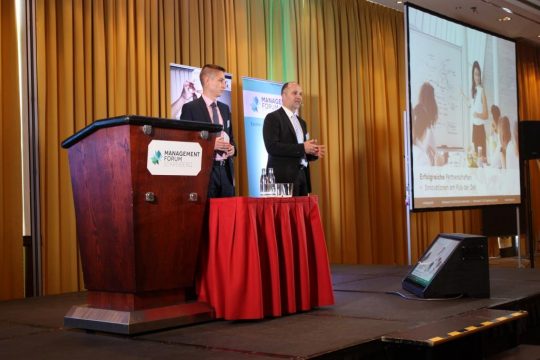 Any questions? We are happy to assist you.
ventopay ist the specialist for cash, payment and billing systems for communal catering. As a full-service provider, we offer a one-stop system that is used by company restaurants, caterers, canteens, universities, schools, stadiums, arenas, recreational facilities, hospitals and vending operators.
Request now without obligation!