To overcome the corona crisis, the German government has decided to reduce VAT.
For the period from July 1, 2020 to December 31, 2020, the normal tax rate will be reduced from 19% to 16%, the reduced tax rate from 7% to 5%.
The tax rate on food will also be adjusted: from July 1, 2020, limited to December 31, 2020, a tax rate of 5% applies. A tax rate of 7% will apply between January 1, 2021 and June 30, 2021.
In order to relieve you of the system changes, ventopay will offer a simple option for all customers who have their systems in maintenance.
Our support will contact you at the beginning of June.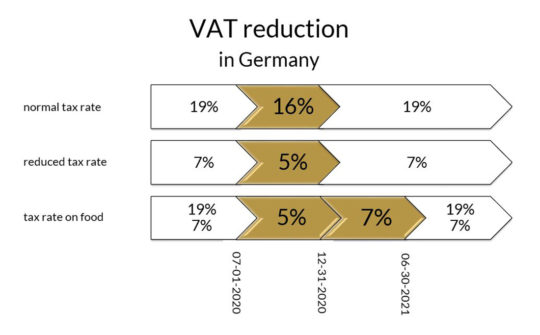 Thank you for your interest in ventopay's mocca® products. Fill out the contact form below, our sales team will get back to you as soon as possible to record your requirements in detail and to submit a non-binding offer.
Inquire now without obligation!