Megatrends digitalization, individualization and health
Digitalization, individualisation and health – these are the global megatrends that ventopay has identified as having a decisive influence on community catering.
"Especially for companies with a strong affinity for innovation, it is important that employees and their needs are addressed in the best possible way – satisfied and healthy employees contribute a high added value to the company's development.",
explains Ing. Johannes Reichenberger, author of this whitepaper and managing director of ventopay.
For this reason, ventopay incorporates current megatrends into the development and thus sets new standards for the development of future-oriented products in community catering.
With the mocca® system, these are bundled in a new type of digital restaurant that acts as a central hub for communication, payment and customer loyalty.
Whitepaper with ventopay innovations
The new whitepaper (in German) from ventopay provides an overview of which innovative components of the digital restaurant are based on the aforementioned megatrends of digitization, individualization and health:
optical beverage and food detection
prepaid payment
customer loyalty apps
bonus programs
feedback possibilities
health Tracker
preordering
data analysis of customer behaviour
prediction models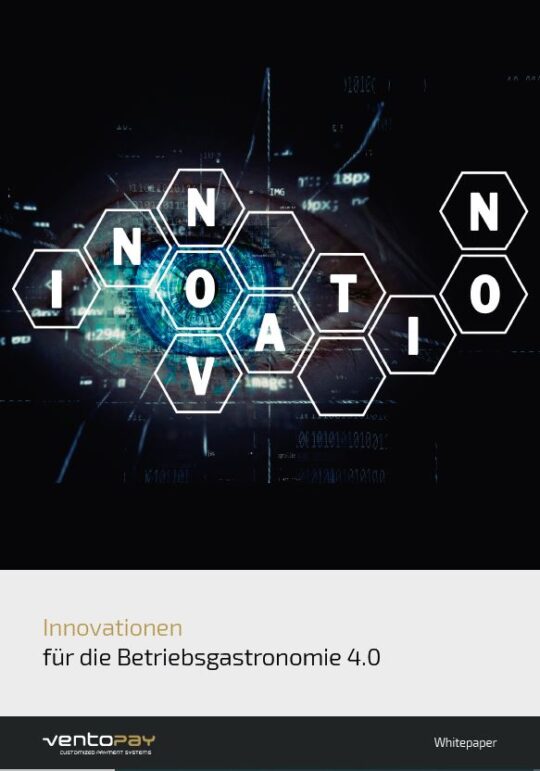 Download the free whitepaper (in German) on ventopay innovations for community catering 4.0 as a PDF file now!
Would you like to receive further information on the innovations described? Contact our sales team now without obligation!
Thank you for your interest in ventopay's mocca® products. Fill out the contact form below, our sales team will get back to you as soon as possible to record your requirements in detail and to submit a non-binding offer.
Inquire now without obligation!