BBG is the procurement service provider of the public sector. It was founded in 2001 as a service provider for the Confederation. Since 2006, countries, municipalities as well as third parties – ie public institutions such as universities or health care institutions – have been able to obtain their products through the BBG. Companies can place orders simple and without creating a tender.
ventopay has been an official partner of BBG since 6 June 2016 and is entitled to wear the seal of approval.
With the systems of ventopay all legal regulations are fulfilled completely – also those, which come into force on 01.04.2017 with the cash register safety regulation. In addition, public companies may expect discounted prices when ordering through federal procurement.
In order for third parties to benefit from procurement via the BBG, only the conclusion of an agreement is necessary. All information can be found on the BBG website. If you have any questions regarding the ventopay cash register and payment systems, please contact vertrieb@ventopay.com.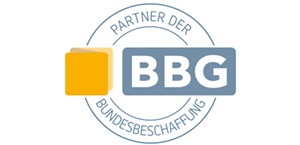 Any questions? We are happy to assist you.
ventopay ist the specialist for cash, payment and billing systems for communal catering. As a full-service provider, we offer a one-stop system that is used by company restaurants, caterers, canteens, universities, schools, stadiums, arenas, recreational facilities, hospitals and vending operators.
Request now without obligation!