On 17 November, ventopay hosted a free workshop regarding the Cash Register Security Regulation 2017. Interested participants from all over Austria followed the invitation and gathered for a morning in Hagenberg.
CEO Johannes Reichenberger presented the theoretical first secion. He explained the details on the obligation to use a cash register  as well as all the legal changes, which will come into effect on 01.04.2017. Subsequently, the participants wers shown practical example how the exact sequence for the commissioning of a safety device looks like.
In a live demonstration the individual steps were explained:
commissioning of the security device (card reader and signature certificate)
creation of the first receipt and export from mocca.admin
registration at FinanzOnline
checking the first receipt with the "BMF Belegcheck" app
Afterwards, the latest innovations from ventopay were presented. The participants were able to get to know the various features and possibilities of the mocca.app, which was accounced for 2017.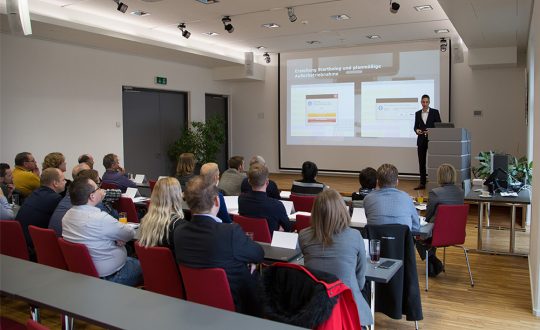 In a final round, all remaining questions from the participants were clarified, which resulted in extremely positive feedback. Martin Schefberger of Energie Burgenland AG was delighted:
"The workshop was very practical. Especially the hardware set-up and the presentation of the procedure on FinanzOnline was great!".
Sonja Leichtfried of STIWA Holding added:
"The remarks were competent and understandable. As a customer I feel in good hands at ventopay. "
Any questions? We are happy to assist you.
ventopay ist the specialist for cash, payment and billing systems for communal catering. As a full-service provider, we offer a one-stop system that is used by company restaurants, caterers, canteens, universities, schools, stadiums, arenas, recreational facilities, hospitals and vending operators.
Request now without obligation!