Diverse projects
Many varied projects are waiting for you at ventopay, so that no working day is boring.

Flexible working hours
You can organize your weekly working hours flexibly and freely around the core time according to your needs.

Further education
Training budgets are available for individual further education within your area of activity.

Team cohesion
Team cohesion is very important to us at ventopay. You can always rely on the help of your work colleagues, because they are at your side with help and advice.

Activity room
An activity room has been set up for all ventopay employees, which can be reached by slide. In addition to a comfortable couch, there is also a table football table, dart board and billiard table.

Daily meal allowance
For the well-earned lunch break, ventopay offers its employees a daily meal allowance. Furthermore, the surrounding canteens and restaurants ensure a varied menu.

Fresh fruit
Should you still feel hungry in between: You can help yourself to fresh fruit at any time free of charge.

Free parking
ventopay offers free parking spaces where you can park your car. There are also several charging stations. Of course there is also a covered bicycle parking space.

Pool cars
All ventopay employees can use two pool cars for business trips, so that it is not necessary to use the private car.

International top customers
ventopay implements projects for many well-known customers. You can find some references below.

Time compensation
Any overtime will of course be credited to you and, after consultation, you can take your well-deserved compensation at any time.

Flat hierarchies
At ventopay, the hierarchies in the team are flat and decision-making paths are accordingly short.

Socializing
In addition to the Christmas party, ventopay organizes a ski trip and a company outing every year. Furthermore, there is a monthly team dinner and leisure activities regularly organized by colleagues.

Coffee breaks
The necessary coffee, cocoa and tea for breaks is provided by ventopay free of charge. You can choose between all delicious flavors such as espresso, cappuccino and latte macchiato.

Fully equipped kitchen
Would you prefer to cook freshly yourself during your lunch break or warm up what you brought with you? This is not a problem in the fully equipped kitchen.

Good transport connection
The headquarters in Softwarepark Hagenberg is only about 20 km from Linz and benefits from traffic connections that are free of traffic jams.

Laptop und smartphone
Every employee receives a company laptop from ventopay. After a corresponding period of employment with the company, a company smartphone can be provided upon request.

Innovative working environments
In spring 2021, we moved into the ultra-modern new building at the headquarters in Hagenberg. Accordingly, the complete equipment including workplaces, kitchens, bar area and activity room is new and of high quality.
Recommended by employees as a "Top Company"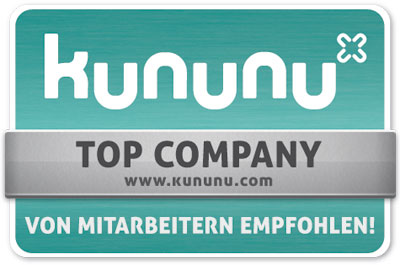 Innovative working environments