Leading platform for digitization & innovation
As a leading manufacturer of complete digital solutions, ventopay inspires guests, fans and users with the most innovative products and a high-performance payment system at the cutting edge of technology. We focus on our customers and partners with their individual needs and offer tailor-made solutions.

The mocca® product range is the leading platform for digitization and innovation in communal catering and system gastronomy.
A breath of fresh air for billing and payment
ventopay is an owner-managed company with more than 20 years of industry experience and more than 50 employees, which is led by the management team around Ing. Johannes Reichenberger. Innovation and quality are our top priority.
The company name ventopay came about as part of the effort to bring a breath of fresh air (vento) to billing and payment (pay). We will be happy to convince you with innovative solutions, clever state-of-the-art products, refreshing ideas and optimal customer service.
Innovation and technology leader with 20 years of industry experience in communal catering
Digitization and automation simplify your daily work and workflows
Total system provider for POS, payment, billing and customer enthusiasm systems
Tailor-made solutions through high investments in research & development
Competent, technical support and over 100 service locations in the region of Germany, Austria and Switzerland
Many years of experience in communal catering
The company was spun off from a department for payment systems in 2012 and is now the innovation and technology leader in digitization in communal catering.
In addition to a comprehensive and integrated checkout, payment and billing system, the product range also includes ordering systems and employer branding solutions.
With mocca®, ventopay offers a system of the highest quality, which is tailored to the special requirements of communal catering.
ventopay guarantees fast payment, simple billing and high customer enthusiasm for the specific needs of company restaurants, system catering, caterers, stadiums, arenas, leisure facilities, hospitals, care facilities, universities, schools and vending machine operators.
Full-service provider with over 100 locations
As a full-service provider, ventopay offers everything from a single source, from development, consulting, project management and implementation to training, support and maintenance.
As a result, ventopay guarantees the highest quality and reliability of the entire hardware and software product range.
ventopay is headquartered in the Softwarepark Hagenberg, Austria's "Silicon Valley".
There is also a branch in Vienna.
ventopay gmbh Germany was founded in 2015 and today has branches in Essen, Augsburg and Hamburg.
In addition, there are more than 100 ventopay service partner bases in Germany, Austria and Switzerland.
In-house development and support
In the in-house development department at the Hagenberg location, the mocca® product line is continuously being further developed by a team of specialists and new functions are being added.
In addition, in-house development offers the opportunity to react quickly to individual inquiries and to implement special developments.
Before software updates are rolled out, they are extensively tested in a dedicated quality assurance department.
Project management and support are also based in Hagenberg.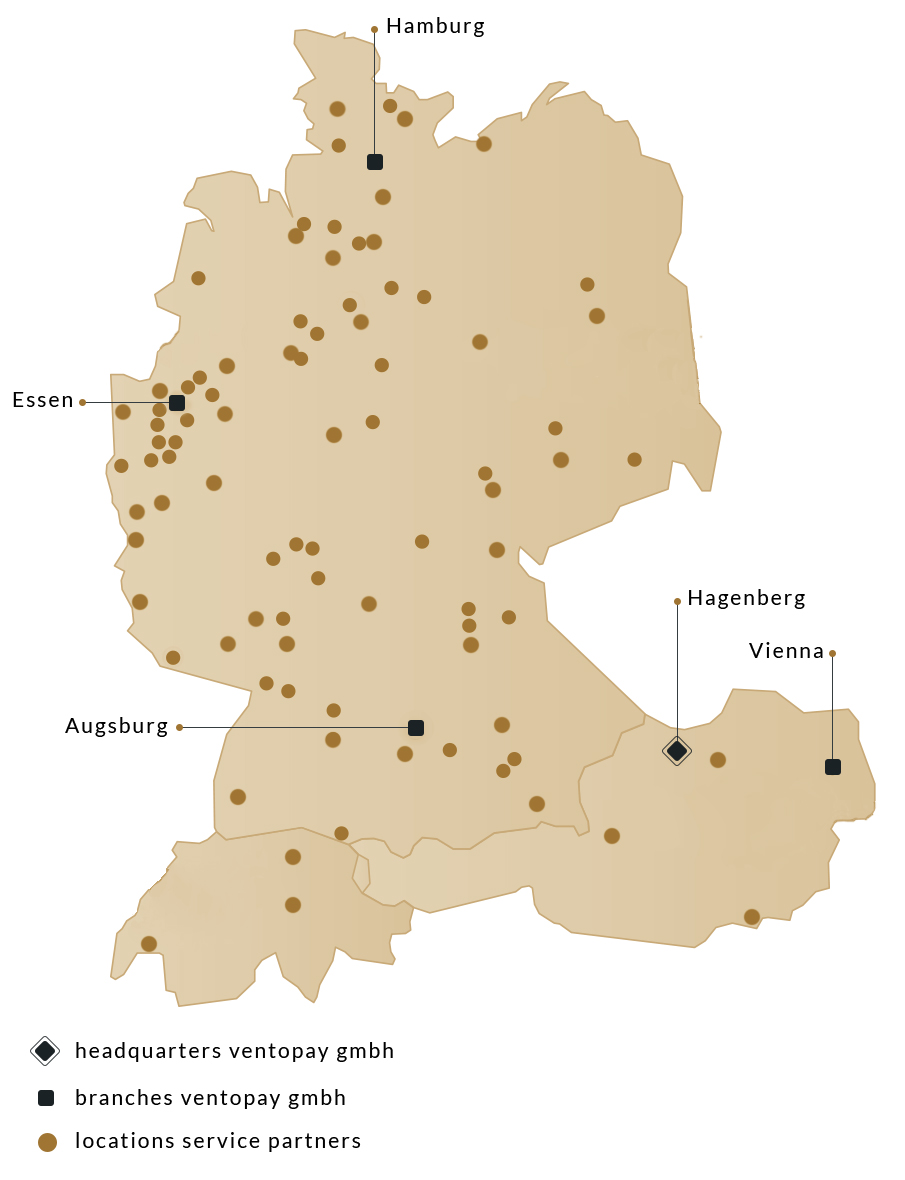 Our mission:
Quick payment.
Simple billing.
High customer enthusiasm.
Your success is our goal. We want to make our customers successful by making payment and billing processes in communal catering as efficient as possible.
With the cashless payment system mocca® we accelerate payment, our management and reporting software simplifies billing and our innovative apps increase customer enthusiasm and customer loyalty.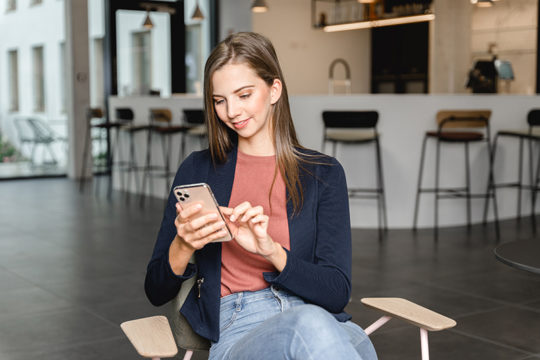 The recipe for success right from the start: everything from a single source!
We have no less aspiration than to offer you the best system on the market with mocca®. The basis for the success of ventopay are complete system solutions in which all main modules are developed in-house.
All components such as cash registers, vending machines, apps and pre-order systems are fully integrated in the mocca® system. This enables us to guarantee quality, reliability and smooth processes in company catering. In addition, administration and billing are quick and error-free due to the shared database.
As a customer, you always have just one contact person who recognizes your requirements and efficiently solves any problems. Annoying coordination with interfaces between several companies is therefore a thing of the past.
10 facts that speak for ventopay:
Total system provider: everything from a single source
Innovative products by incorporating research results
100 service locations in Germany, Austria and Switzerland
Centralization of all data
Easy integration of additional modules
Intuitive operation & attractive design
Time & effort savings in payment & billing
Data & IT security
Numerous well-known references
20 years of experience
Foundation ventopay: 2012
Move into new building: 2021
Locations: 5
Service partner locations: 100+
End customers: 500+
Annual customer projects: 50+
Research projects: 3
Employees: 50+
"Top Company" award from kununu
1st place in the Young Entrepreneur Award (Junge Wirtschaft OÖ)
2nd place in the "IT & Communication" category at the prize
for the best innovations in Upper Austria (CHEFINFO)
3rd place in the Best Business Award "31 to 100 employees" category (BBA)
7th place in the Young Entrepreneur Award (Gewinn)
Top 10 placements at the Pegasus Award (OÖNachrichten)
Top 50 placement at the growth champion (Profil)
Thank you for your interest in ventopay's mocca® products. Fill out the contact form below and our sales team will get back to you as soon as possible. We look forward to your inquiry.
Inquire now without obligation!