Fresh wind for billing and payment
The company name ventopay was created as part of an effort to bring fresh wind (vento) into billing and payment (pay). We will gladly convince you with innovative solutions, clever products with state-of-the-art technology, refreshing ideas and optimal customer service.
Many years of experience and expertise
With 20 years of experience, ventopay is your specialist in the field of cashless cash register, payment and billing systems. With mocca®, ventopay offers a system of the highest quality, which is tailored to the special requirements of community catering.
It can be used for company restaurants & caterers, universities & schools, stadiums & arenas as well as hospitals & care facilities and vending machine operators. Well-known customers in Germany, Switzerland and Austria are already successfully using the mocca® system.
Management
ventopay is an owner-managed company that is led by Ing. Johannes Reichenberger.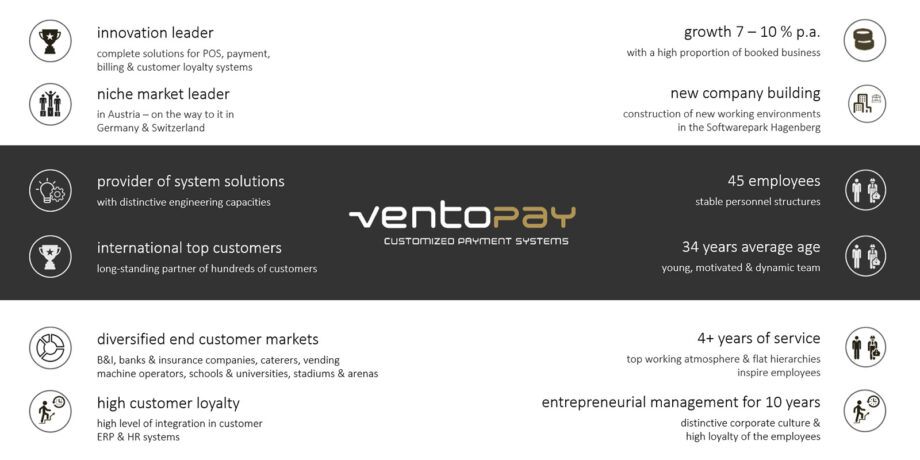 The recipe for success of ventopay has always been:
Everything from one source!
We have no less claim than to offer you with mocca® the best system on the market. The basis for the success of ventopay are complete system solutions in which all main modules are developed.
All components such as cash registers, machines, vending machine modules, apps and pre-order systems are fully integrated in the mocca® system. Thus we guarantee quality, reliability and smooth processes in the company catering. In addition, administration and billing are quick and error-free due to the common database.
As a customer, you only have one single contact that can recognize your requirements and efficiently solve possible problems. Annoying coordination with interfaces between several companies is therefore a thing of the past.
10 reasons for ventopay:
Total system provider: everything from one source
Innovative products through the inclusion of research results
100 service-locations in Germany, Austria and Switzerland
Centralization of all data
Easy integration of additional modules
Intuitive operation and appealing design
Time & effort savings on payment & billing
Data & IT security
Numerous well-known references
20 years of experience
Thank you for your interest in ventopay's mocca® products. Fill out the contact form below, our sales team will get back to you as soon as possible to record your requirements in detail and to submit a non-binding offer.
Inquire now without obligation!