In the current "business" issue 2-2021, the Raiffeisenlandesbank magazine, there is a portrait of ventopay about the innovative solutions for employee catering that were brought onto the market within a very short time during the lockdown. An excerpt from the article:
Catering in lockdown
ventopay's rise was steady until 2020. Then came Friday the 13th in March of last year and everything came to a standstill. Lockdown, everyone goes home and just wait and see. For CEO Reichenberger, however, things couldn't go quickly enough behind the scenes. Because now you had to be inventive and develop new products. Within a very short time, innovations were implemented in ventopays systems in order to master the break-in in conventional company restaurants.
After all, the machines were still being operated in manufacturing companies. "We needed solutions," says the 33-year-old Hagenberger. "One of them was to enable employees to have their food delivered directly to their workplaces." Means: The employees order via the app on their mobile phones, the company restaurant delivers directly to the machine shop.
Developments in the area of pre-ordering have played into the arms of Reichenberger, which ventopay has been promoting for several years. Originally developed to improve planning and save resources and waste, the pandemic suddenly triggered new business models. From ordering directly on the production machines to home cooking boxes for employees in the home office and their families.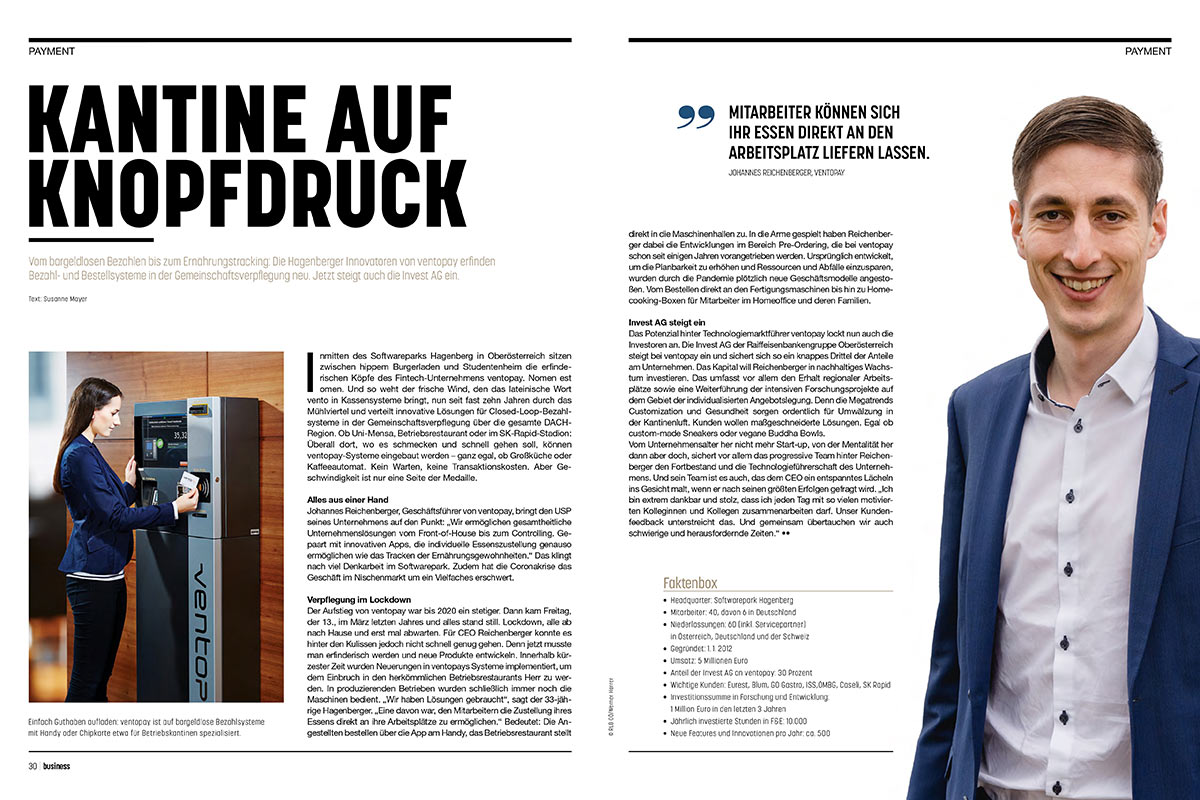 No longer a start-up in terms of company age, but in terms of mentality it is, above all the progressive team behind Reichenberger ensures the continued existence and technological leadership of the company. And it is his team that puts a relaxed smile on the CEO's face when asked about his greatest successes. "I am extremely grateful and proud to be able to work with so many motivated colleagues every day. Our customer feedback underscores this. And together we cover even difficult and challenging times."
You can read the full article about the "Canteen at the push of a button" here (in German):
Thank you for your interest in ventopay's mocca® products. Fill out the contact form below, our sales team will get back to you as soon as possible to record your requirements in detail and to submit a non-binding offer.
Inquire now without obligation!