Preferably cashless
Cashless payment is becoming increasingly popular in German company restaurants, and the trade press is also discussing the many possibilities.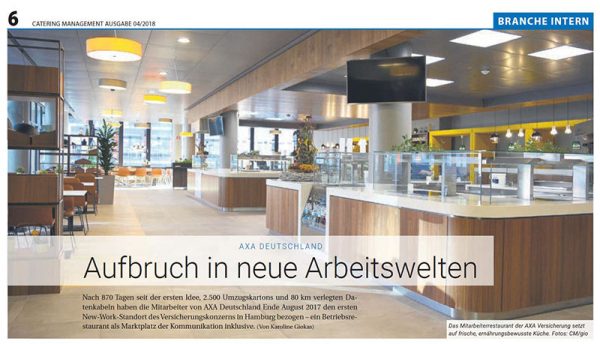 Departure into new working worlds
The newspaper Catering Management provided an interesting insight into the company restaurant of the new AXA Germany location in its April issue.
In 2017, the insurance group opened a new office in Hamburg, which was – like all other branches in Germany – eqipped by ventopaywas with the POS and payment system mocca®.
The article entitled "Departure into New Working Worlds" provides exciting impressions of how AXA wants to break new ground with the interaction between modern furnishings and innovative payment systems. An excerpt from the article:
"Even though the kitchen or coffee bar has already closed down, guests at the AXA company restaurant can use an open self-service kiosk around the clock: just pick a product, take it out of the fridge and use the employee card for cashless payment at the adjacent terminal. "In the meantime nobody wants to miss this service any more", says Rudolf Eggenkämper from AXA Germany. "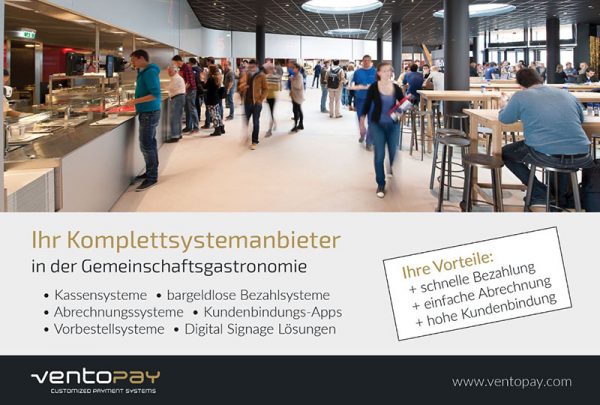 With bonus programs for additional sales
Also the GV-kompakt magazine dedicated its focus of issue 4-2018 to the billing and cash register systems for public catering.
The article not only presents the many advantages of cashless payment, but also discusses the valuable additions and further developments of ventopay:
"The managers see another innovative product development for the future in bonus programs developed with catering specialists, which should encourage employees and customers to generate additional sales. Smartphones, apps and existing loyalty cards are seamlessly integrated. "