The newspaper Catering Management provided an interesting insight into the company restaurant of the new AXA Germany location in its April issue.
In 2017, the insurance group opened a new office in Hamburg, which was – like all other branches in Germany – eqipped by ventopaywas with the POS and payment system mocca®.
The article entitled "Departure into New Working Worlds" provides exciting impressions of how AXA wants to break new ground with the interaction between modern furnishings and innovative payment systems.
An excerpt from the article: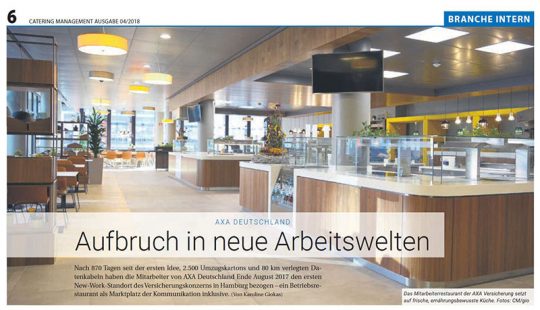 "Even though the kitchen or coffee bar has already closed down, guests at the AXA company restaurant can use an open self-service kiosk around the clock: just pick a product, take it out of the fridge and use the employee card for cashless payment at the adjacent terminal. "In the meantime nobody wants to miss this service any more", says Rudolf Eggenkämper from AXA Germany. "
Any questions? We are happy to assist you.
ventopay ist the specialist for cash, payment and billing systems for communal catering. As a full-service provider, we offer a one-stop system that is used by company restaurants, caterers, canteens, universities, schools, stadiums, arenas, recreational facilities, hospitals and vending operators.
Request now without obligation!