A new version of the "digital interface of the financial administration for the cash register system" – DSFinV-K for short – was recently published. Below we summarize the most important changes to the standard for cash registers in the latest version DSFinV-K 2.3. (Source: https://kassensichv.net/)
Serial number
Until now, the serial number of the cash register was stored in the technical security device (TSE). With DSFinV‑K 2.3, this must now also be stored in the DSFinV‑K.
Clarifications
The DSFinV‑K 2.3 contains many clarifications on scenarios that affect the correct connection of the interface.
Application regulation
DSFinV-K 2.3 applies to recordings made after July 1, 2022. Version 2.3 can also be used before that.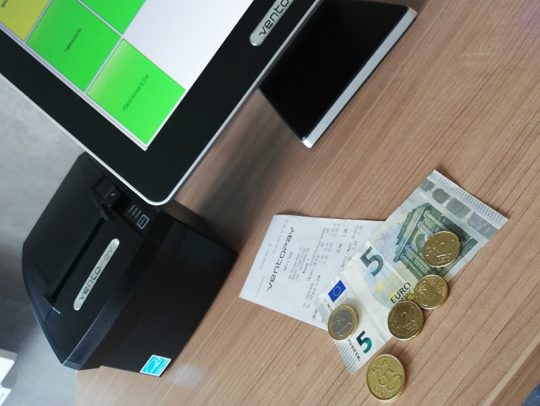 What does this mean for ventopay customers now?
Essentially, the changes are only clarifications in the definition, but not changes per se. ventopay has always stored the serial number in the database and not read it ad hoc from the TSE.
"All in all, ventopay also fully meets the requirements of the changes according to DSFinV-K 2.3 without the need for any software changes. Since the serial numbers were always only stored in the database before, our customers have relied on an absolutely secure system with mocca® right from the start."
Georg Riernößl, developer at ventopay
Further technical details on the DSFinV-K
A more detailed description of how the DSFinV-K interface is implemented in mocca® and can be created can be found in our "Information brochure on cash register security regulation – technical security device" in chapter 2.1 (in German).
Thank you for your interest in ventopay's mocca® products. Fill out the contact form below and our sales team will get back to you as soon as possible. We look forward to your inquiry.
Inquire now without obligation!