The nutrient diary mocca.health is an expansion module for the mocca.loyalty app or the mocca.loyalty website, which can be integrated at any time if desired. It offers your guests the opportunity to track their nutrient uptake and analyze their personal eating and drinking behavior.
Personalization of mocca.health
The first step is for your health-conscious guests to anonymously enter their personal parameters for gender, height, date of birth and weight.
Then the activity level in everyday life is to be selected from various options. mocca.health then automatically calculates the recommended calorie and nutrient requirement per day based on the entered body parameters.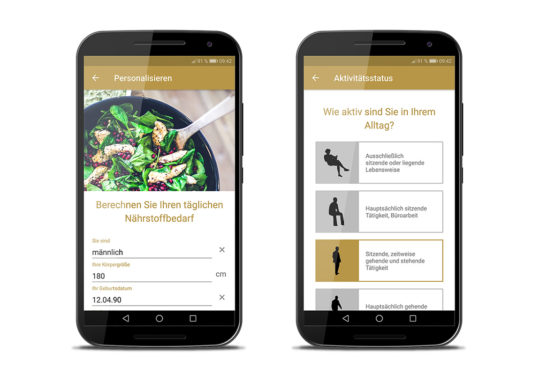 Automated calculation of the nutrient balance
For every item paid for in the company restaurant, the kilocalories, nutrients such as protein, carbohydrates and fat as well as the allergens are automatically documented in mocca.health and taken into account when calculating the nutrient balance for the current day.
The "manual correction factor" function can be used to reduce the amount of nutrients absorbed in the nutrient diary. This function is useful if the guest has only eaten half a portion.
In each nutrient category, the calculated requirement and the nutrients actually consumed are displayed and compared. A traffic light system ensures that the current status can be recognized quickly and shows, for example, how far the recommended daily dose of fat has already been exceeded. The step size (day, week, month) of the displayed calculation can be changed by the guest at any time.
By clicking on a consumed item, you can also switch to a detailed view. This article detail page gives a more detailed insight into the nutrients and allergens contained in the selected article. On this item details page, you can also get feedback from your guests in the form of open and/or closed questions about the food.
The data in the nutrient diary can be downloaded as a CSV file at any time, so that it can be used in fitness apps, for example.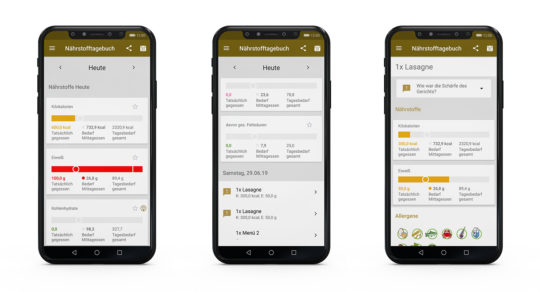 Inform now
Would you like more information about the additional module mocca.health? Our sales team will be happy to advise you!
Thank you for your interest in ventopay's mocca® products. Fill out the contact form below and our sales team will get back to you as soon as possible. We look forward to your inquiry.
Inquire now without obligation!