In the current October issue of GVmanager – the industry journal for executives in the public catering sector – the special section was dedicated to the topic of cash register systems.
The article "Cloud instead of glass ball?" explained ways in which modern POS systems are already taking over production and sales planning for caterers.
Of course, the research project ADPAY by ventopay should not be missed in this context. GVmanager writes about this:
The project "Advanced Data Analysis for Payment Systems", in short ADPAY of the cash register manufacturer Ventopay, goes one step further. The company sees great untapped potential in modern company catering, since many customer requests can not be recognized and illustrated.

Still, billing and payment systems for catering companies hardly offer the opportunity to automatically predict the preferences of guests. The project ADPAY should change that.

Customer loyalty programs and predictions for menu engineering are developed here. Different customers prefer different product ranges and combinations. Through individual bonus programs and product combinations advertising and customer loyalty programs can be made more efficient.

The main objectives of the project are to increase sales and intensify guest retention through individual interaction. Improved resource planning, the minimization of food waste and clear controlling are also on the agenda.

The system's ability to learn independently and the high degree of automation mean that operators need only have minimal expertise to generate high-quality proposals.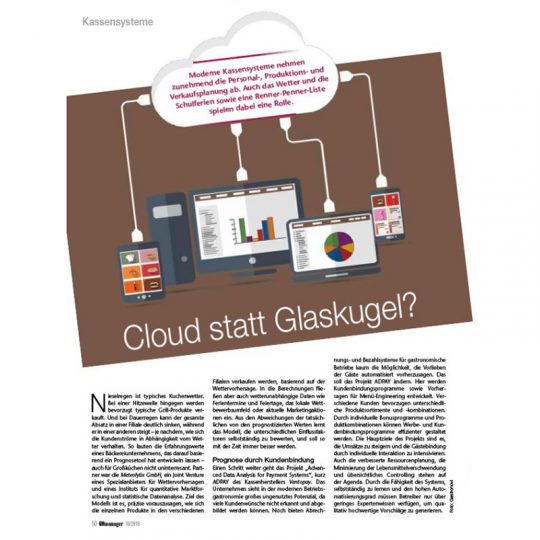 You can view the entire article (in German) via the button below.
Thank you for your interest in ventopay's mocca® products. Fill out the contact form below and our sales team will get back to you as soon as possible. We look forward to your inquiry.
Inquire now without obligation!