Softwarepark Hagenberg, October 6th, 2022: In its canteens, Volkswagen AG Germany relies on know-how from Upper Austria for cash register, merchandise management and payment systems for 110,000 employees
ventopay, the specialist in the field of cashless cash register, payment and billing systems in Hagenberg, was able to win Volkswagen AG Germany as its next major customer. From autumn 2021, six VW plants with 110,000 employees switched to mocca®, an overall system developed by ventopay, in several phases.
In more than 220 restaurants, 270 cash registers, 200 moneyloaders and interfaces to 2,100 vending machines as well as the existing ID cards of the employees were integrated. In addition, innovations such as a web portal, digital signage and an interactive web menu plan display were implemented.
"Our digital restaurant is the central hub for communication, payment and customer loyalty. With the mocca® app, customers can not only pay easily, but also receive relevant information such as daily menu plans, current credit or relevant news from the company 'just in time'," says Johannes Reichenberger, Managing Director of ventopay.
More than 500 customers already trust ventopay's complete digital solutions
The mocca® system, which is also used at Volkswagen AG, not only enables cashless payment, but also the fast and automated creation of reports. This minimizes the administrative effort and the desired data is available in the shortest possible time. Feedback and suggestions for improvement from customers can be implemented promptly. There is also the option of using the AI-supported solution for food recognition to capture menus and drinks by camera and book them fully automatically in the POS system. Cashless payment speeds up the entire checkout process by a factor of 10.
"It has always been our goal to help shape the future of company catering for the needs of the respective guest, i.e. the employee. In addition to the quality of the offer, time plays an important role. The more efficiently the payment and billing systems work, the happier operators and guests are," says Reichenberger.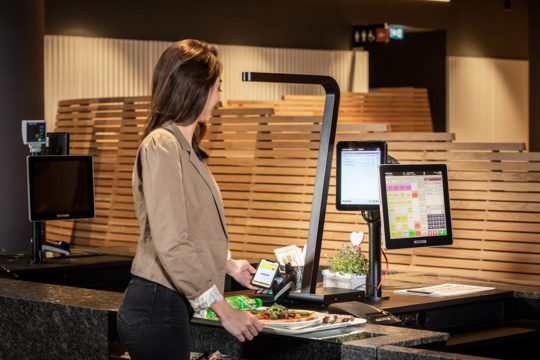 Successful cooperation at over 60 service locations in Austria, Germany and Switzerland
ventopay's innovations did not go unnoticed either. In 2021, INVEST AG joined the company founded in 2012 and acquired almost a third of the shares and thus significantly supported the expansion and growth beyond national borders. In addition to large corporations such as VW, ventopay also supports sports clubs, companies, educational institutions and authorities – from stadiums and arenas, schools and universities to hospitals, companies of various sizes are among their customers today.
POS and payment systems from ventopay are used by ÖBB, AXA Versicherung, the Austrian Armed Forces, Lenzing AG, voestalpine AG and the Vienna University of Economics and Business, among others. Together with more than 60 service partners, the company offers professional and fast on-site support throughout the region of Austria, Germany and Switzerland.
Thank you for your interest in ventopay's mocca® products. Fill out the contact form below, our sales team will get back to you as soon as possible to record your requirements in detail and to submit a non-binding offer.
Inquire now without obligation!