Our mocca.loyalty app and mocca.loyalty website have received an update that makes it possible to digitize the entire hospitality workflow in companies. This significantly simplifies the time-consuming, manual and legally required archiving of receipts and increases the efficiency of the entire business.
All employees who have been assigned the appropriate authorization can now request hospitality directly via the website or app. They enter all relevant data on the hospitality using a form. This includes, for example, the occasion of the hospitality, host, participant, cost center and time of the hospitality.
The user receives a clear overview of all future hospitality requests and their status. Until the hospitality request has been accepted in the workflow, it is still possible to cancel it.
Digital approval of hospitality requests on the website or in the app
For authorized users, the corresponding counterpart called "hospitality overview" is of course available on the mocca.loyalty website and mocca.loyalty app. There, each hospitality request can be individually accepted or rejected.
Easy booking at mocca.touch
The booking at the mocca.touch cash register can be done in three ways. With a generated, unique cost center number, the host can go to the checkout on the day of consumption and have the invited guests' meals and drinks booked there. The cashier can search for and select the event number via the cash register and book the corresponding items.
Alternatively, the confirmation can be printed out from the mocca.loyalty website and taken to the checkout. The third option is fully digitized again: At the checkout, the QR code belonging to the booking, which is displayed in the mocca.loyalty app, can be scanned.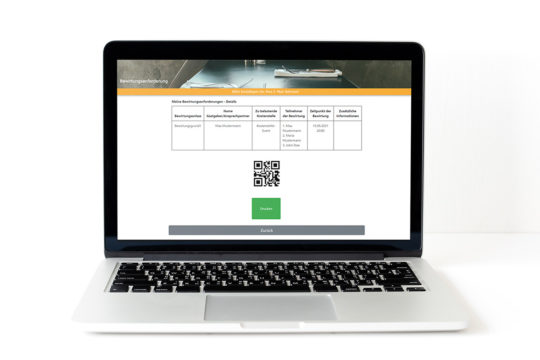 Sign digital hospitality receipts
It is also possible to integrate a signature pad at the cash register. After booking all items and confirming their accuracy, the host can sign the hospitality receipt directly on the connected signature pad. The signature is immediately printed on the receipt and saved electronically.
Thanks to this innovative integration of hospitality workflows into the overall system, the legally required hospitality receipt from the hospitality request to the receipt is completely digitized. The receipt no longer has to be printed out, but can be automatically forwarded to the appropriate recipient in the company via the reporting.
Non-binding advice
Would you like to use this innovative solution for digitizing hospitality receipts in your company? Do not hesitate to contact our sales team without obligation.
Thank you for your interest in ventopay's mocca® products. Fill out the contact form below, our sales team will get back to you as soon as possible to record your requirements in detail and to submit a non-binding offer.
Inquire now without obligation!