The mocca.order ordering system comes up with two different new features, which have arisen from the innovative strength of ventopay.
Pre-order menu plans
When pre-ordering the menu plan, the various dishes in the current menu plan are clearly listed so that they can be added to the shopping cart with one click. So you can pre-order collectively for the whole week.
The big advantage of the new feature is that it is no longer necessary to start the ordering process anew for each pre-order day. With the menu plan pre-order it is possible to order the desired dishes for the entire week on a single page. As a result, the guest skips several steps and saves a lot of time. Pre-orders have never been more convenient!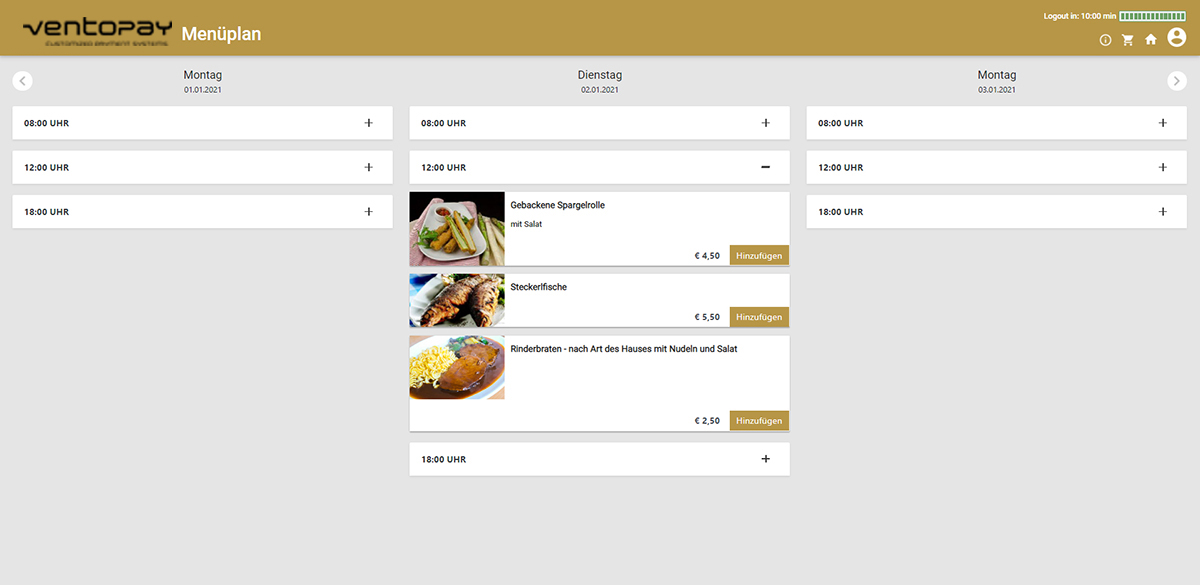 Guest mode
In addition, it is now also possible to use the mocca.order ordering system in guest mode. Previously, customers had to log into their personal account in order to place an order. Now this also works without a registration.
Guest mode works for both pickup and home delivery. With this variant, the delivery address must then be filled in during the checkout process. Payment is made with an open-loop payment method such as an EC card, credit card or Apple Pay.

Customer Eurest is enthusiastic
"We will use the guest mode for the first time for the fresh@home fresh cuisine special 'Christmas goose'. All of our table guests from the Viennese area have the opportunity to order a Christmas menu that is delivered straight to their home and only has to be prepared there within ten minutes. We really appreciate the partnership with ventopay, as the company regularly comes up with new product features and innovations. In addition, our new business ideas can always be implemented quickly thanks to the high-quality development services provided by ventopay."
Stefan Wögerer, Regional Manager Eurest Restaurationsbetriebsgesellschaft m.b.H.
Thank you for your interest in ventopay's mocca® products. Fill out the contact form below, our sales team will get back to you as soon as possible to record your requirements in detail and to submit a non-binding offer.
Inquire now without obligation!