On Saturday, 16.07.2016, the gates of the newly built Allianz Stadium in Vienna officially opened for the first time. The first game was a match between SK Rapid Wien and FC Chelsea. The stadium was completely sold out. 28,000 fans were able to enter the new venue for the first time.
A special highlight of Austria's most modern stadium is cashless payment. ventopay equipped the stadium with the mocca® system. The highly innovative solution allows quick payment in the stadium.
A separate currency, the so-called Rapid Mari€, can be used at the 130 stationary and mobile cash registers at the Allianz Stadium. These are credits that are loaded onto non-personalized stadium payment cards.
These cards can be purchased locally in the fancorner, at special machines or at 50 promotors. The pre-loaded credit balance is self-determinable in 5 Euro steps. Charging of the card can be carried out in cash or by means of a debit card and credit card.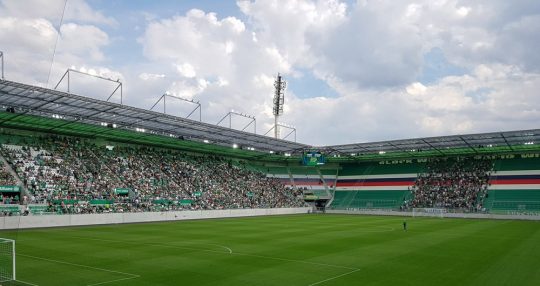 As soon as the credit of the payment card is consumed, additional Rapid Mari€ can be reloaded at any time. For this purpose, ventopay developed the mobile cash register app called mocca.touch.mobile. Promotors can use a NFC smartphone to recharge the payment cards of the stadium visitors with new credit.
The card is issued without deposit. Various editions of the stadium payment cards with different motives are gradually being issued.
The NFC technology allows easy, fast, secure and contactless payment. The payment card is held onto the reader of a stationary or mobile cash register. The transactions generated are automatically debited from the card balance.
The remaining balance can be collected at the machines or the ticket office until one hour after the end of the game. Remaining credit remains valid. This can be consumed during a future stadium visit.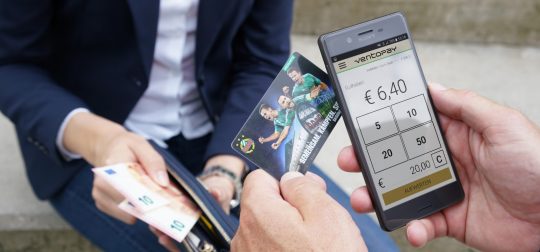 Due to the unique overall system, in addition to the obligation of cash registers also the obligation to provide receipts is fulfilled in an innovative way. The receipts for the 28,000 fans in the stadium do not have to be printed at the POS. They can be accessed electronically. At the special machine in the stadium, where the card's credit can be charged, you can also print the receipts of your own card.
Security and speed are the main focus of ventopay's POS and payment system: organizers and visitors were equally enthusiastic about the smoothly functioning system. Despite the rush on snack bars, the waiting times were minimized. Cashless payment eliminates the need for cash handling and thus speeds up the procedures.
Thank you for your interest in ventopay's mocca® products. Fill out the contact form below, our sales team will get back to you as soon as possible to record your requirements in detail and to submit a non-binding offer.
Inquire now without obligation!