A few days ago, ventopay gmbh commissioned the cashless cash register and payment system mocca® in the ratiopharm arena Ulm. 39 stationary as well as 25 mobile cash registers ensure simple, fast and secure payment with the SchwabenCard and the ratiopharm arena card.
On Saturday, 30th September 2017, the new cash register and payment system went into operation in the ratiopharm arena. A total of 39 stationary cash registers are used in the kiosks, the business lounge and the payment center. 25 innovative smartphone cash registers complete the system. These are used for mobile food and beverage sales and for payments at the parking lot.
Fans can continue to use their cards
At the basketball game ratiopharm ulm against ALBA Berlin visitors could pay as usual with the SchwabenCard and the ratiopharm arena card. However, for the first time, the transactions in the multifunctional arena were carried out by ventopay's integrated mocca® system.
CEO Johannes Reichenberger:
"Because of intensive and precise preparation, all fans can continue to use their previous cards. The credits are automatically transferred to the new mocca® system – the first day went smoothly. "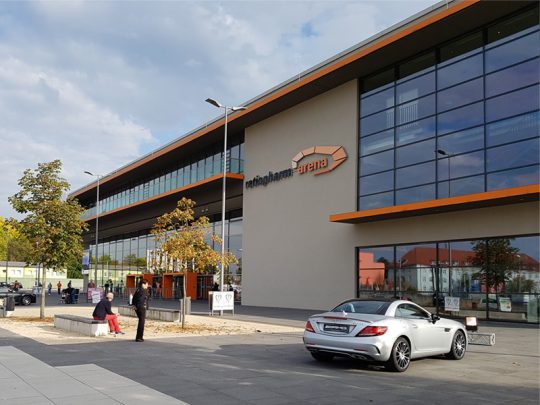 Card handling as before
For each card, a deposit of two euros will be kept back. The remaining credit and the deposit can be repaid at any time quickly and without any problems. Of course, remaining credit remains valid and can be used in a later visit in the arena.
Switch to new supplier necessary
The multifunctional arena with up to 9,000 seats already had a cashless payment system since the construction in 2011. In 2017, the existing payment system provider filed insolvency. Due to the many advantages of cashless payment, the responsible persons decided to use a cashless solution again. They decided for the innovative payment system from ventopay, which was successfully installed within a very short time. Visitors can rest assured: With ventopay, the ratiopharm arena now relies on a future-proof provider.
Marvin Stegmann, project leader of the ratiopharm arena:
"We have full confidence in the competence of ventopay and we certainly made the right choice for the supplier of the cash register and payment system. Despite the time pressure, the implementation was carried out professionally – an optimal project. "
ventopay gmbh is an innovation and technology leader for cashless cash register and payment systems. The mocca® system has already been successfully introduced to numerous well-known references.
Thank you for your interest in ventopay's mocca® products. Fill out the contact form below, our sales team will get back to you as soon as possible to record your requirements in detail and to submit a non-binding offer.
Inquire now without obligation!