Second checkout with optical food recognition
Caseli GmbH runs the company restaurants of voestalpine AG in Linz and has been a satisfied customer of ventopay for many years. Since the redesign of a dining room on the premises, a second cash register with optical food recognition is now also in use.
With the AI-supported solution for food recognition at Caseli, all menus and drinks on a tray are automatically recorded by camera and booked directly into the mocca® POS system. Cashless payment speeds up the checkout process many times over.
"ventopay has been addressing the challenges in community catering for years and offers innovative, digital solutions in its overall system. Due to the lack of staff, we have installed two self-service checkouts in the Caseli restaurants, which the guests are happy to use.

The completely automatic recognition by camera ensures that you can get through quickly at lunchtime and helps to avoid queues. All guests can now simply scan and pay for lunch themselves – very intuitively and quickly.

The simple teach-in directly at the point-of-sale makes it possible to recognize all dishes – whether soup, main course, salad or dessert – in the shortest possible time."
Harald Böcksteiner, area controlling, Caseli GmbH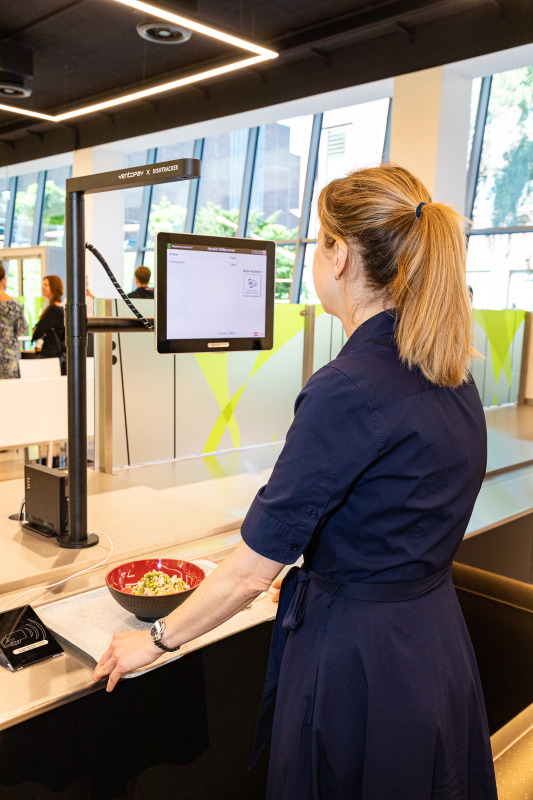 Hybrid mode provides flexibility
The so-called "hybrid mode" is new in the system of optical food recognition: With the appropriate authorization from Caseli employees and just a push of a button on the corresponding button, the checkout mode is changed immediately.
Usually, optical food recognition is set to the contactless self-service shown above, where no manual interaction is required. Simply place the tray, the automatic food recognition starts immediately and the payment mode is completed by placing the employee card on it.
With the help of the hybrid mode, the automatic camera checkout can now be used immediately as an attended checkout for authorized checkout users with just one click of a button. In this way, checkout stations can be used multifunctionally.
With this simple switching between the different software types on the same hardware, Caseli GmbH benefits from full flexibility for all requirements of modern communal catering.
You can find more insights into the cooperation with Caseli in this customer statement.
Thank you for your interest in ventopay's mocca® products. Fill out the contact form below, our sales team will get back to you as soon as possible to record your requirements in detail and to submit a non-binding offer.
Inquire now without obligation!