With the introduction of its cash-free cash register and billing system, the VEBO cooperative is using the mocca® system of the Austrian market leader ventopay. For ventopay this means the successful implementation of the first project in Switzerland.
Together with the Swiss sales partner ELEKTRON, the established mocca® system from ventopay was adapted to the special requirements of the Swiss market and brought to the approval. On the 1st of February, the planned and successful commissioning of the innovative mocca® solution at VEBO cooperative finally took place. Two operational restaurants as well as a bakery were equipped with eight mocca.touch cash registers and two mocca.value moneyloaders.
With the comprehensive mocca® system, VEBO is able to centrally manage all POS systems. The additional functions of the administration software mocca.admin – which was developed for VEBO – considerably reduce the administrative expenses.
"We opted for mocca® from ventopay as we wanted to have a total solution from an innovative and reliable supplier. The project preparation and introduction of the new cash register and payment system ran to our full satisfaction. In particular, it should be noted that our specific requirements have been addressed and these have been professionally implemented by ventopay. Especially the intuitive operation of all components, the quick payment and the easy management of the complex billing processes at VEBO were very professional."
Beat Gerber, Head of Commercial and Social Services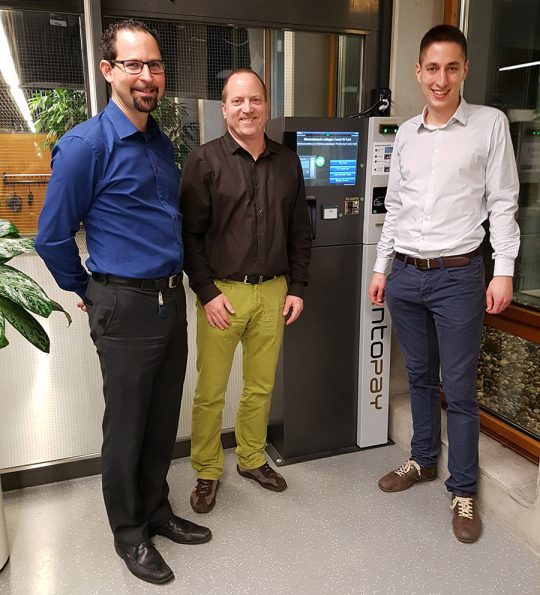 However, not only VEBO benefits from the new cash system. Guests can load their RFID badges at the user-friendly charging stations with cash, EC or credit card. Afterwards, they are able to pay with the badge at the cash desk in a simple, fast and cashless way. Long waiting times are therefore a thing of the past.
"We are very pleased with the successful commissioning of the mocca® system at VEBO. With this project, we also made a significant investment in the future and concluded market-specific developments as well as licensing for the Swiss market. "
Ing. Johannes Reichenberger, CEO ventopay gmbh
The VEBO cooperative supports the integration of people with disabilities that do not find employment in the free labor market. In VEBO's own workshops these people not only find work but also appreciation. VEBO's other offers include occupational measures, day care centers and dormitories. There are two restaurants and an organic bakery for the daily catering of the residents, guests and staff.
Thank you for your interest in ventopay's mocca® products. Fill out the contact form below and our sales team will get back to you as soon as possible. We look forward to your inquiry.
Inquire now without obligation!