Together with our long-standing customer and partner Eurest, we have added a function to the mocca.order ordering system. This offers the caterer the possibility of additional sales potential in the form of new business models: The delivery of ordered meals directly to the customer's home.
New business model for restaurateurs
Since catering companies were only allowed to offer their meals for pick-up and delivery during the lockdown phases, it made sense to expand the existing mocca.order system with a delivery function.
Thanks to the excellent cooperation between Eurest and ventopay, it was possible within a very short time not only to create a concept for the food delivery to the diner at home, but also to put it into practice in a timely manner.
With mocca.order2home, not only the diner in the company can be catered for, but also the employees in the home office and their families. The advantages of the caterer are obvious: additional sales potential and profiling as an innovative service provider.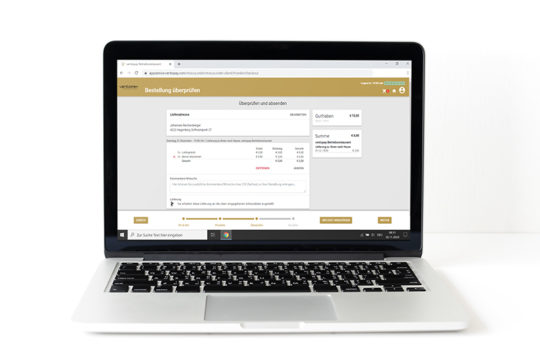 The employees, in turn, also benefit from any subsidies in the home office. In addition, there is no need for laborious cooking at home, as the meals can be conveniently delivered for themselves and other people in the household. In this way, Eurest can pamper table guests with delicacies at home instead of in the company restaurant.
Customer Eurest is enthusiastic
Eurest is enthusiastic about the simple depiction and processing of the new line of business:
"The needs of our customers were also in the foreground for Eurest during the lockdown. Together with ventopay, we have established a system in a very short time that enables us to take care of our guests at home. It was particularly important to us that the guests, regardless of whether they are served in the company restaurant or at home, continue to receive subsidies. The seamless integration of the pre-order into the cash register system enables this requirement perfectly.

With mocca.order, we can also design our range individually for different customer groups – this offers considerable added value. As Eurest, we are therefore taking another strategic step with this successful project and also supplying external guests with mocca.order. ventopay supported us not only on a technical basis, but also with rapid concepts that enable a great further development of our business models. "

– Stefan Wögerer, Regional Manager Eurest Restaurationsbetriebsgesellschaft m. b. H.
mocca.order2home for your company too
Are you also interested in using the mocca.order ordering system for collection, delivery or on-site consumption in your company? Do not hesitate to contact our sales team. We would be happy to advise you on mocca.order without obligation!
Thank you for your interest in ventopay's mocca® products. Fill out the contact form below and our sales team will get back to you as soon as possible. We look forward to your inquiry.
Inquire now without obligation!