Moneyloader: recharge credit with cash, debit or credit card
When selecting a cashless payment system with a chip cards, the employee cards or tokens are charged in advance with a cash amount. In the case of consumption, the individual amounts are deducted. If there is not enough money on the card, the customer will be informed and they have to recharge the cards.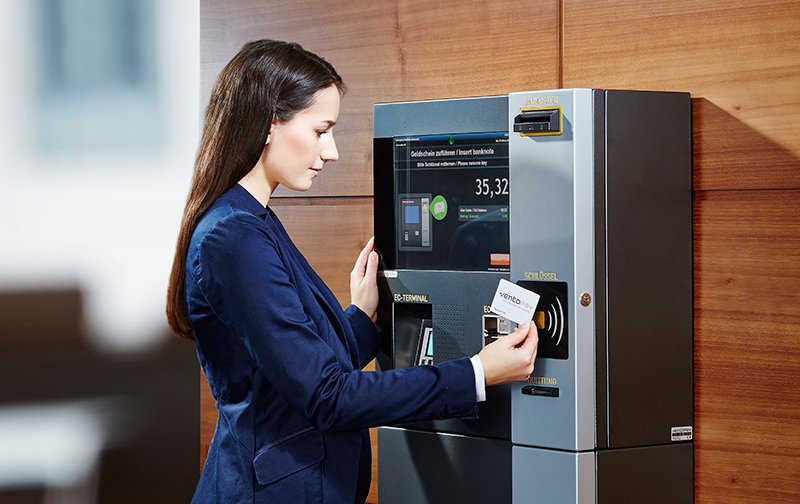 Recharge with cash, EC or credit cards
The mocca.value moneyloader can be used very quickly and easily. You follow the instructions on the screen and recharge your chip card within seconds. The mocca.value has a 15 inch touch screen. There are different variants of the moneyloader. On the one hand there is the mocca.value, which is served purely with cash. The mocca.value+ can be served with cash as well as EC, ATM or credit card. This means you have the greatest possible comfort and allow your customers a range of payment options. Another option is charging by means of wage and salary. Here, the card is charged with an amount that is automatically debited at the end of the month from the payroll.
Safe and reliable
The multi-millimeter-thick steel case protects the moneyloader against unauthorized removal of cash. Whenever you open the machines with your key, a message is sent to the control center and the current money balance is saved. In order for your customers to have an overview of their transactions, the mocca.value moneyloader can also be used to view past consumptions and reprint bills. You as a kitchen manager do not have to discuss with your customers and offer them full transparency about their purchases. Of course, a bill with the current credit can be issued at the cash register.
Quick overview of the money stock
The sales data of your moneyloader is transferred to the control center via network. You see clear presentations of each withdrawal of the cash box and all transfers of credit cards and EC cards to the bank. You can check the cash count quickly as the bank notes are listed individually in the evaluations.
Credits are visible in the system. If a card is lost or stolen, the credit amount can be blocked or transferred to a new card. Nevertheless, we advise you to set upper limits for credits.
Features and advantages at a glance
credit card, EC or cash
reliable and safe
reduces administrative costs
easy handling
capable of working offline
Mifare, Legic or HiTag
NFC
You loaded your money, what next?