Direct communication channel for modern customer loyalty
The mocca.loyalty app offers you the excellent opportunity to communicate directly and intuitively with your customers. You can conveniently inform your guests about menu plans and current developments in your company or obtain valuable feedback from them. Your customers, in turn, use the smartphone app, for example, to top up their credit, for mobile payment, for a transparent overview of past transactions and for pre-ordering food. This is modern customer loyalty from which everyone benefits.
Flexible use of standard functions
In the mocca.loyalty app, a large number of different functions are available as standard. Menu plans, offers, opening times, company news, past transactions, current credit, bonus points as well as options for mobile payment and pre-orders – your guests can easily access all of this and more via the smartphone app.
According to your individual requirements, ventopay only shows the modules you need from the standard functions. Of course, additional standard functions can be activated at any time.
Your guests are always up to date
The most important information is shown to your guests at a glance on the home screen of the mocca.loyalty app. In addition to the remaining credit and the current bonus level, the last transactions made can be seen. In the news feed below, the latest news from the selected restaurant is also presented.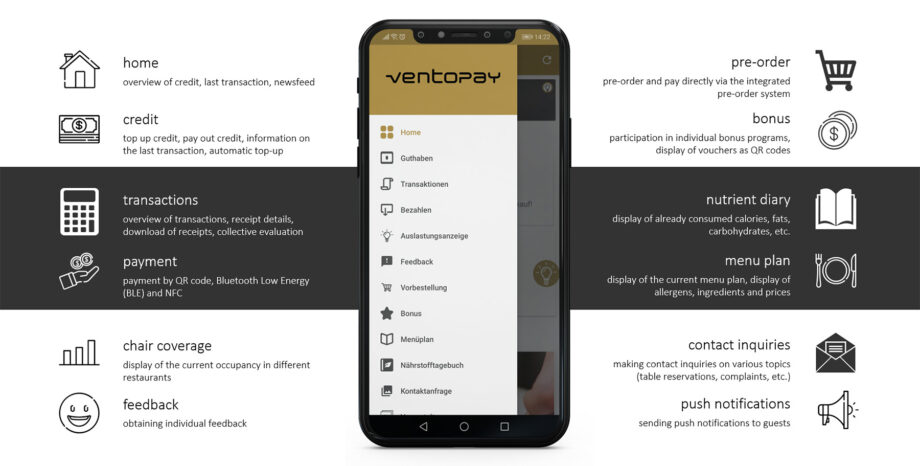 Fulfillment of the obligation to provide evidence
The customer app allows users a transparent insight into all past transactions such as consumption, top-ups and the achievement of bonus levels. The corresponding receipt for all transactions can be viewed, shared or downloaded at any time. This function corresponds 100% to the obligation to issue receipts in connection with the KassenSichV in Germany and the RKS-V in Austria.
Top up credit via the app and make mobile payments
The app not only shows the current credit balance, it is also possible to top it up directly via the smartphone. For example, by EC card or credit card or by billing via wages and salaries, the desired amount is credited immediately. Automatic charging can also be set where a predefined amount is automatically topped up when the credit balance falls below a certain level. Remaining credit can also be paid out using all payment methods.
There is also the option of using the smartphone for mobile payment. ventopay relies on various methods. Payment can be made via the NFC (Near Field Communication) function, which is already integrated in most smartphones. Alternatively, payment can be made using a QR code. In addition, a payment option at vending machines via BLE (Bluetooth Low Energy) can be implemented in your company restaurant.

Easy integration of expansion modules
In addition, special extension modules are available for the app: the mocca.loyalty bonus system, the mocca.health nutrient diary, the mocca.marketing news and feedback module and the mocca.order pre-order system.
mocca.loyalty ensures strong customer loyalty
The bonus and customer loyalty program mocca.loyalty can be activated in the app at any time and enables your guests to collect and redeem bonus points.
Since you can offer an individual bonus program tailored to the needs for each customer group or guest, you will increase customer satisfaction and increase your sales.
Within a bonus program, your guest's sales are totaled so that the bonus can be activated after reaching a bonus level. A voucher is created that can be redeemed at the cash register or in the ordering system mocca.order.
Tracking of the nutrient balance with mocca.health
The nutrient diary mocca.health is an expansion module that – just like the customer loyalty program – can be integrated at any time if desired. Your health-conscious guests can calculate their individual energy consumption after entering some parameters such as gender, age and height.
The kilocalories, nutrients and allergens of all food consumed are automatically documented so that the personal nutrient balance of the current day can be viewed by your guests at any time. A traffic light system ensures that the current status is recorded quickly and shows, for example, how far the recommended daily dose of salt has already been exceeded.
mocca.marketing brings valuable feedback
With mocca.marketing, you not only have contact with your guests while paying for the lunch menu, you can also reach them all day long via push messages or the newsfeed channel on the home screen of the mocca.loyalty app. Inform your customers directly and personally via their smartphones about the latest news or food promotions.
The associated feedback module enables you to start surveys via the app and obtain important customer feedback. There are various types of questions available to you, such as single choice, multiple choice, star ratings and open questions, which can also be combined with one another if required.
Pre-order with mocca.order
The mocca.order pre-order system can be seamlessly integrated into the mocca.loyalty app. This means that your guests can order the dishes they want directly from their smartphone while they are out and about.
The collected pre-orders help the restaurant manager with the precise planning of the cost of goods. This will avoid overproduction and reduce your food waste to a minimum.

Insert generic modules
ventopay is also happy to add generic modules to your mocca.loyalty app. A heading and a suitable symbol are selected for the menu and a link to a website is stored.
From training videos on YouTube to the employee magazine on your website to a contact request form, there are no limits. These modules can be set flexibly depending on the customer group, so that only the relevant menu items are displayed for each guest.
Adaptation to your corporate design
Of course, the layout of the mocca.loyalty app can be adapted to the corporate design of your company. ventopay is happy to store your logo and company colors, for example. This ensures the recognition value with your company.
Highest level of security and privacy
ventopay guarantees the highest security standards with SSL encryption for data communication. The data itself is saved and managed anonymously. The privacy of all users is respected, as each user can individually set which functions he or she wants to use.
Features and benefits:
newsfeed for direct customer contact
consumption overview & inspection of receipts
query & top up credit
mobile payment
bonus & customer loyalty program mocca.loyalty
nutrient diary mocca.health
feedback module mocca.marketing
pre-order system mocca.order
generic modules adaptable to your needs
easy customizing to your corporate design
SSL encryption
Thank you for your interest in ventopay's mocca® products. Fill out the contact form below, our sales team will get back to you as soon as possible to record your requirements in detail and to submit a non-binding offer.
Inquire now without obligation!