Mobile POS system: locally flexible use
In addition to the stationary cash register, ventopay also offers a mobile POS system, which is particularly convincing due to its flexibility and robustness. The mobile POS system is a tablet which is optionally available in a size of 7" or 10".
Complete checkout function
The mobile POS system offers all the functions that its "big sister" – the stationary cash register- offers. Thus all the requirements for caterers, companies, hospitals, stadiums and arenas as well as for schools and universities are fulfilled with the mobile POS system.
Powerful hardware and software
ventopay also focuses on high-performance hardware and software for the mobile POS system. All tablets have an Intel Atom processor and 2GB RAM. The optimized operating system and state-of-the-art hardware components fulfill all requirements in terms of performance.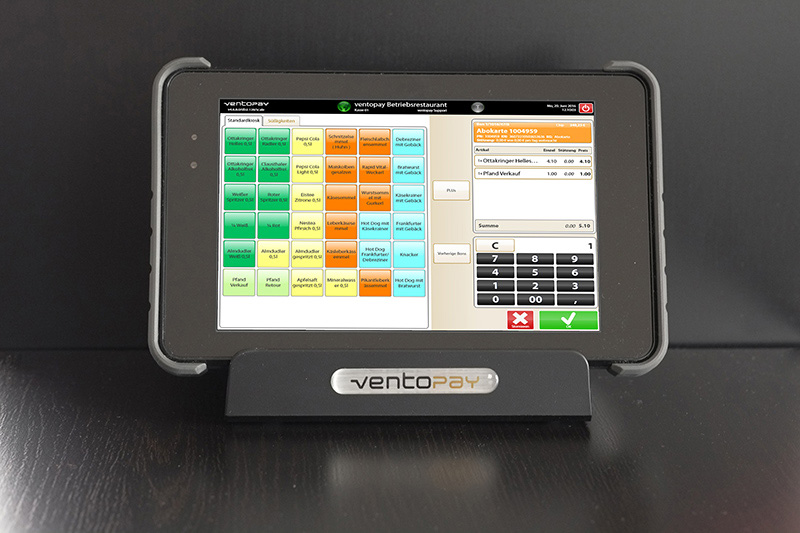 Robust "rugged" design for all areas of use
The ventopay tablets are designed as "rugged" versions. This means the mobile POS systems are particularly stable, robust and shockproof. Excellent for daily mobile use, no matter what area of use.
Compatibility with the mocca® system
The mobile POS system is compatible with all other ventopay mocca® products. Mobile belt printers and mobile EC terminals facilitate the work of service personnel, since the entire payment process, including bond printing, can be carried out directly at the customer's table.
Features and advantages at a glance
flexible use
robust and shockproof
optionally in 7″and 10″
powerful hardware
optimized operating system
Would youlike to have more information on the stationary cash register?